Culinary Masters Series
featuring
Chef Troy Guard
with
Chef Greg Hozinsky
Winemakers Heidi & Bo Barrett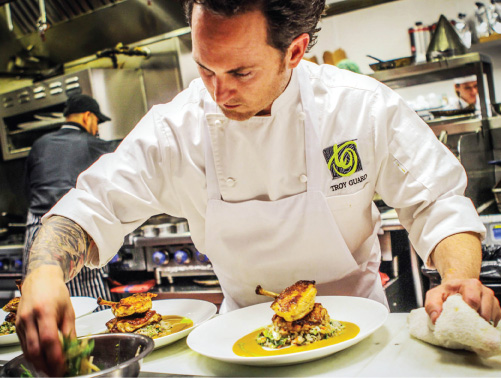 Chef Troy Guard
Monday, May 4, 2015
We welcome Chef/Owner Troy Guard of the acclaimed TAG Restaurant Group in Denver. Chef Guard was named one of the "Great Regional Chef's of America" by the James Beard Foundation and will take us on a culinary journey through his playful cuisine, described as Continental Social Food, which melds his Hawaiian Roots, interest in Pan-Asian Cuisine and commitment to local Colorado ingredients.
The dinner menu will be paired with a selection of wines from La Sirena and Barrett & Barrett. In attendance will be renowned winemakers/owners Heidi and Bo Barrett. Combined, their coveted accolades have earned them such great respect from Robert Parker, Jr. that he tipped his hat by proclaiming her the "The First Lady of Wine" and him "the Cal Ripken" of winemakers.
PREVIEW THE MENU
6:30 PM cocktail reception, 7:00 PM dinner. sold out
This exclusive event will sell out, so please call soon for reservations at 310‑545‑7470.
our culinary masters
2018
2017
2016
2015
2014
2013
2012